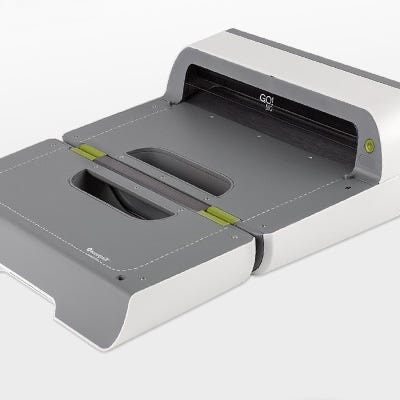 Everyday Value Priced!
Retail $ 249.99
Compare to $ 322.89*
$ 72.90 savings!

*If all dies and mats were purchased separately.
Introducing the GO! Qube Mix & Match 10" Block. The GO! Qube Mix & Match 10" Block includes eight GO! Dies, two cutting mats (6" x 6" and 10" x 10"), an instructional DVD, PLUS a FREE 20-page pattern booklet which includes 14 Mix & Match block patterns.
The GO! Qube includes eight dies, each labeled with a number. The included patterns tell you which die number to use for each shape. This is the same numbering system in the GO! Qube Mix and Match Blocks and Quilts Pattern Book by Eleanor Burns-2nd Edition and the 72 Block Mix & Match System.
GO! Dies included (with quilt shape number)
GO! Square-5 1/2" (5" Finished)
GO! Square-3" (2 1/2" Finished)
GO! Half Square Triangle-5" Finished Square
GO! Quarter Square Triangle-5" Finished Square
GO! Half Square Triangle-2 1/2" Finished Square
GO! Square on Point-4 1/16" (3 9/16" Finished)
GO! Parallelogram 45°-3 3/16" x 4 1/4" (2 1/2" x 3 9/16" Finished)
GO! Rectangle-3" x 5 1/2" (2 1/2" x 5" Finished)